Reel-Time Innovation - G3 Global Games and Gaming Magazine-July 2012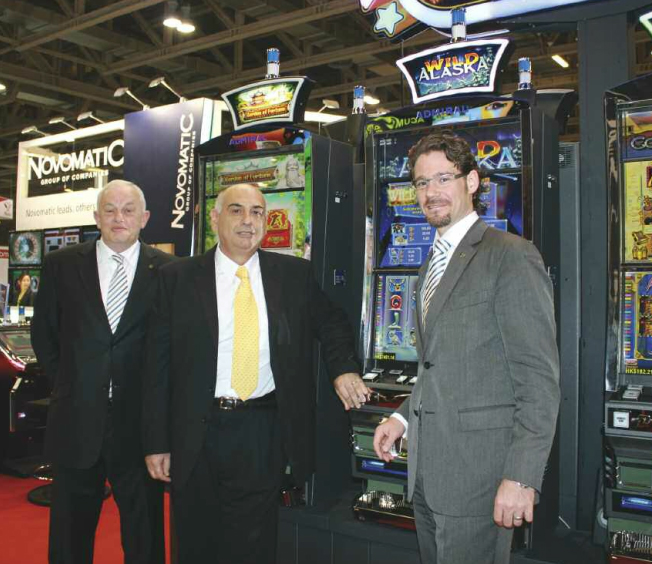 Novomatic's David Orrick and Max Lindenberg, pictured at the G2E Asia show in Macau with Jade Gaming's Joe Pisano (centre). "Operators know what they want in terms of service and you need to be in the right time - all the time. Jade Gaming is doing an excellent job for us in this region, doing things meticulously and methodically - and getting results." MAX LINDENBERG, Novomatic.
Dedicated products and local support complete Novomatic's Asian market focus
This year's G2E Asia in Macau was an important meeting point for operators and suppliers from all across Asia, from Cambodia, Vietnam, Korea, the Philippines etc. The ambition of the show was always to reach years has this been the reality. "The show purported to represent the entire Asian marketplace, but this was not the case at the beginning," affirmed Novomatic's Max Lindenberg. "G2E Asia began as a show for Macau and then Singapore, but more recently this exhibition has become a truly Pan-Asian event. G2E Asia is now living up to its billing, with opportunities in every market in Asia."
Sweeping across the Asian gaming marketplace, the changes taking place in the Philippines is attracting a lot of attention at a regional and global level. "There's still a lot of work to be done in the Philippines from a regulatory standpoint, but the level of investment is unprecedented and we're excited about the future development of the market," confirmed Novomatic's David Orrick. "What's also interesting is that the Macau market itself is now seeing much more new equipment on the slot floor and properties are making greater efforts with their slots. It's a revenue stream that until recently has been neglected as they have not effectively capitalised upon slots growth, having focused almost totally on table gaming. The changes taking place in Macau and Asia as a whole make this a very interesting market for Novomatic right now."
The opportunities for slots are growing while at the same time electronic table gaming is also expanding across the Asian region. At the show Novomatic exhibited its range of Novo unity II products with lie and automated virtual versions of Black Jack, Baccarat, Bingo, Poker3, Caribbean Poker, Texas Hold'em Poker and Sic Bo as well as Novo Multi-Roulette and a selection of slot games, all available on each of the connected player terminals. However, it was the brand new Super-V + Gaminator III cabinet with the latest Rise of the Dragon four level mystery jackpot took centre stage, with games including Garden of Fortune, Golden Scarabs II, Gorilla and Wild Alaska. Interactive completely server-based products included the new Reel Tournament, a real-time system that can begin a tournament at the push of a button without changing software or resetting machines. Operators simply select a game for the tournament and then switch back to online system without incurring any downtime. Novomatic displayed Reel Tournament on a bank of Super-V + Gaminator III machines featuring a tournament multi-game mix entitled T1.
"We are providing a one-stop-shop for downloadable gaming, fully fledged server-based, jackpot systems, multi-games, electronic table games, with on-the-ground service and support courtesy of our colleagues from jade Gaming" explained Mr. Lindenberg. "Joe Pisano started Jade Gaming in the Philippines and has recently opened a branch in Macau offering the highest level of service for the region. Operators know what they want in terms of service and you need to be in the right place at the right time – all the time. Jade Gaming is doing an excellent job for us in this region, doing things meticulously and methodically – and getting results. Jade Gaming is a vital link and part of our business strategy for growth in this marketplace. In Asia, you need the right people on the ground."
Also on display, Novomatic showed the Octavian ACP system in Macau, including the jackpot modules on which the Rise of the Dragon jackpot is available. Octavian's modular and highly 'tuneable' casino management system ACP (Accounting Control Progressive System) includes a series of system 'add-on' functionality including profit calculation, TITO, Cashless and Player Loyalty and has proved an extremely attractive 'package' solution.'
Source: http://content.yudu.com/Library/A1xk6i/G3July2012/resources/index.htm?referrerUrl=http%3A%2F%2Fwww.g3-magazine.com%2Findex.php%3Foption%3Dcom_content%26view%3Darticle%26id%3D3%26Itemid%3D3